In fact, root canals can save teeth in 90% of cases in which root canals are performed. At Dental Design in Buffalo Grove, you can receive treatment from one of our expert dentists, just one of whom is Dr. Gelman.
Root Canal Treatments
Root canal treatments are needed when a tooth has damaged or infected pulp in its center.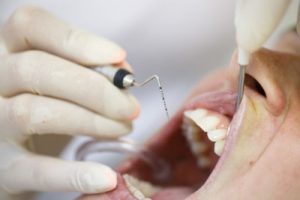 The only way this tooth will be able to recover is by having the infected or damaged pulp removed. If this treatment does not occur, the tooth will only worsen, and will eventually fall out on its own. Root canal treatments are very effective in saving teeth, but there are reasons why a root canal can fail. Our dentist will let you know if you need to get a crown on the tooth. This is after the root canal treatment is completed. This will help to protect the tooth from infection. You will need to keep the dental crown extremely clean, and have regular dental checkups. Should these things be done, your root canal treatment stands a greater chance for success.
A root canal treatment can fail if the crown restoration leaks. Other ways it can fail is if you do not have excellent oral hygiene, or if the sealing materials that have been used to seal the tooth have broken down and degraded. A tooth that has had a root canal treatment can also get a dental cavity, which can cause problems as well. It is also important that your gums remain healthy so that they can continue to strongly hold the tooth in place. Since there are no nerves in the tooth after the root canal treatment, if you do get a dental cavity, or a fracture, you may not be aware of it. Back teeth have more roots and canals in them, and are more likely to experience a root canal failure.
For an appointment to see our dentist for root canal treatments in Buffalo Grove, contact us today.