In just a few months, from consultation to completion, you can have a brand new replacement for the tooth that you've lost. At Dental Design Buffalo Grove, we're experts at placing implants. They look, feel, and perform just like real teeth. And with proper care, you can get a lifetime of use out of them. Let's discuss some of the positive impact dental implants have.
At first, when you come in, our oral surgeon will do an examination. There will be testing to ensure that you are a good candidate for our dental implants at our office in Buffalo Grove. Your gums will need to be healthy, and your jaw bone should be strong and thick enough to support the implant. If you meet those standards, we move on to the next step, which is the surgical placement of the post. Made of titanium, it serves the same purpose as a natural root does.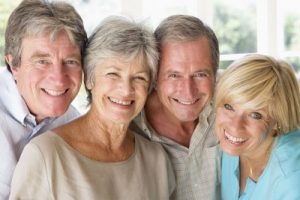 The Positive Impact Dental Implants Can Have on Your Life
Over the next few several months, your jaw bone grows around the post and fuses with it. The post anchors your new tooth securely and permanently. It's what sets our dental implants apart from bridges and dentures. An abutment is then added to the post, which helps to hold the tooth portion in. You will then also have impressions taken at our office. They will be sent to the dental lab, where your crown is fashioned. The crown, made of tooth-colored material, is then cemented to the post. Furthermore, it is kept in place with the help of the abutment.
Unlike bridges and dentures, your other teeth will not be affected. You will not have to apply any messy adhesive. Also, you will not have to be concerned about your implant sliding around or being unreliable. Eat any foods you like, even the crunchiest and toughest ones. There's no problem whatsoever.
Finally, take the first step toward getting dental implants by booking an appointment to come in for a consultation.