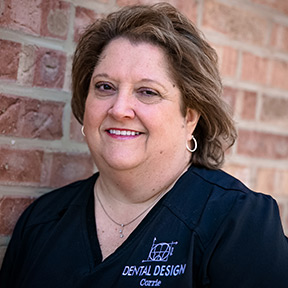 Corrie L.
Dental Assistant
I most recently joined our wonderful dental team and I am very proud to be a part of Dental Design. I have been in the dental profession for over 25 years working as an assistant. All of my extensive experience along with my compassion has formed my combined love of dentistry and the love to help people.
My family includes my husband Cal and our triplet girls – Robin, Brittany, Ashley, and my 1st son-in-law Andrew. I have 2 labradors, Shelby and Penny who I adore. Some of my favorite hobbies are gardening, cooking and hunting for usual finds resale shops,
When the weather is nice you will find me in my backyard barbecuing and enjoying life with my family and dogs. I look forward to meeting you in our office real soon!
"Visiting Dental Design is always a very pleasant experience. Their commitment to punctuality, friendly reception, and excellent dental care will always make this practice the choice for my family."
"Great office, really attentive and sensitive to your needs whether they be financial or concerns about the procedures."
"Everyone was extremely accommodating and helpful. I broke a crown over the weekend and they were able to get me in within an hour of my calling the office."
"Wonderful practice. My family loves this dentist. Dr. Gelman has wonderful personality, great with little kids. Accommodate our busy schedules and same day appointments if needed."
"Dr. Shulkin is a kind and gentle guy and was able to explain what course of treatment was appropriate for me and all of the options clearly."