The importance of having healthy gums and keeping them pink is—most of the time—easier said than done. It requires a full-fledge combined effort: both at home and beyond. Seeing a dental professional regularly goes a long way toward accomplishing that.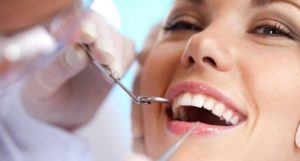 Head over to Dental Design and treat yourself to a potential smile-saving teeth cleaning in Buffalo Grove.
So it's important to consider that what you do at home is only half the battle when it comes to keeping your smile intact. What's the other 50%? Visiting a dentist for evaluations and cleanings. Hold on. We understand there might be some curiosity as to why all of that is necessary. See, even the straightest teeth still have pockets where food particles slip into it. Often times, they are hard to reach pockets. And no matter how vigorously one brushes and flosses, you can't reach those spots…much less remove what's lying within them. As these food particles remain, they eventually harden into plaque. Then plaque becomes tartar.
Trust us… you don't definitely don't want plaque & tartar hanging around. Largely because their presence is a feeding ground for bacteria—which causes gums to shrink. This is called gum disease. Advanced stages of it can lead to drastic loss of dental bone. When that happens, teeth destabilize and the chances of them falling out skyrocket. While this sounds concerning, it doesn't have to be. Take the first big step by reaching out to Dental Design and set yourself up for teeth cleaning appointment.
That's all there is to it. Now all you have to do is reach over to that wonderful device called a phone, punch a few numbers, and call Dental Design. Or shoot us an e-mail—whichever you prefer. After that? Our amazing Buffalo Grove dental staff will promptly help schedule an appointment for teeth cleaning and to make sure you have healthy gums.