Still, sometimes circumstances might arise that can cause one to hide their mouth. It can even make one more inclined to frown than to smile. Luckily, Dental Design and Buffalo Grove family dentistry has smile solutions for the entire family. Dental Design's expert team of dental professionals are committed to comprehensive dental care for Mom, Dad, and children of any age.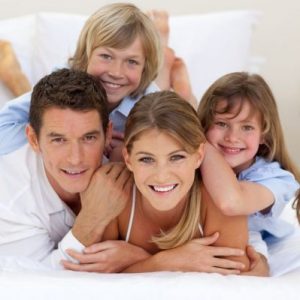 Everyone knows life is easier with one stop shopping, and when it comes to shopping for family dentistry, look no further than Dental Design. Remember, a family that smiles together is a happy family and typically has good oral health.
Dental Design can Fix your Smiles Together
Our experienced team of medical professionals listen before they look. At Dental Design, the patient has the power, and the Buffalo Grove family dentistry team have the solutions. Sometimes dental maladies are products of spinal issues. Dental Design is prepared to offer complete head and neck exams as well as a full range of services in conventional dental medicine. Every new patient receives a complete and comprehensive consultation before a plan of action is decided on. From jaw joint evaluations, to x-ray services, and even oral cancer screenings, all the bases are covered that contribute to oral health.
The experienced medical professionals at Dental Design are well aware that finding a doctor that caters to the needs of an entire family can be a difficult process. Why have two, or even three different dentists to treat one family? Why run all over town to get the same services at different locations. The smiling and soft spoken staff will make you and your family feel right at home. They are also committed to your care and comfort above all else. Don't waste your time with multiple dentist offices and more copays and paperwork than necessary. Stop by your family dental practice in Buffalo Grove today.