Dental Implants are a great way to replace missing teeth and give patients a full set of teeth again. Thanks to advances in dentistry, we can now offer implants in a safe and simple procedure in our offices. Both implants and dentures are a good way to replace teeth. Implants are durable, long lasting and a great option to try instead of dentures or bridges. Dentures and bridges, however, can also be used to fill the gap between missing teeth. Implants are stronger than dentures, and more permanent.
Another benefit of dental implants is that they never need a root canal or filling again. Having implants done can also help maintain the shape of the jaw line and improve facial aesthetics.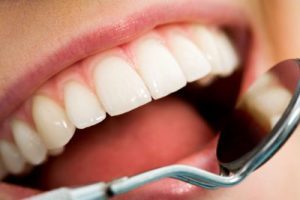 When teeth are missing in the mouth, this can warp the jaw line and cause the sides of the mouth to sink in. Once an implant is placed, the shape of the jaw starts to revert back to its normal, aesthetically pleasing state. Dentures, on the other hand, are good for patients who have multiple missing teeth. Dentures help to bridge gaps in between missing teeth, and can be taken in and out easily. They can be less expensive in some cases.
Bridges and dentures are custom made in our office in Buffalo Grove. Patients who have dentures and bridges may not always be able to eat certain foods, but the kinds of bridges and dentures made today are much more sturdy that those in the past. To see if you are a candidate for either dental implants, dentures or bridges, call Dental Design today to speak with one of our friendly and knowledgeable staff. We can tell you more about both dentures and implants and how they can best help you have better dental health.