Don't let a wave of anxiety rush over you, though. Here at Dental Design, we can assure you that our root canal procedure is smooth and comfortable, with most patients reporting very little or even no pain at all.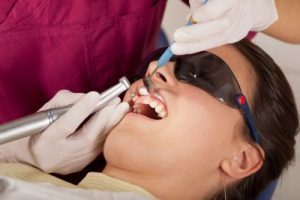 The days of this essential procedure getting an undeserved bad reputation are long gone. The truth is that it saves your tooth from needing extraction and relieves you of pain.
Need a Root Canal
A decayed tooth, deep filling, or a chipped or cracked tooth are most often the causes of needing root canal procedure. Less often facial trauma from an injury or accident can be the reason for the procedure. The most obvious and unwelcome sign of a tooth infection is pain. Often that pain can be excruciating, especially when you try to chew or apply pressure with the tooth. You may also notice sensitivity' to hot or cold foods and drinks, tender gums, or tooth discoloration. Our Buffalo Grove root canal procedure may be done in one session, but could take more than one, depending on the number of canals the tooth has. The injured pulp and nerve will be removed, as will any debris. The canals are then cleaned out and disinfected. At the conclusion, they are sealed.
If you need more than one visit, a temporary crown will be placed to protect the exposed tooth. After the process is complete, you will schedule a time to have impressions taken that will be used to fashion your permanent crown, which restores your tooth back to its full size.
While root canals cannot always be prevented. With good oral hygiene and regular visits for checkups every six months, you can put the odds in your favor for not needing one in the future. Call us when you have tooth pain. We're here to help.