There are many ways that a cosmetic dentist can do that. At Dental Design Buffalo Grove we offer dental implants as well as several other ways that our cosmetic dentist can replace your missing teeth.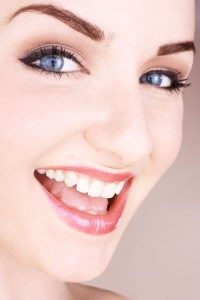 When a patient comes to our practice to replace missing teeth, we will review the patient's individual situation and then make recommendations. Our dentist and patient will then discuss the options and together select a plan of action. Dental implants look, feel and function just like regular teeth. They are made of two portions: the upper ceramic crown and the lower titanium root. Once the patient is cleared for dental implant surgery, titanium roots will be surgically inserted into the jawbone. After several months of healing, when healing is complete, our dentist will then permanently attach the ceramic crown portions to the dental implant roots. At this point your dental implants will be complete – it will be just like having new permanent teeth. If well taken care of with everyday brushing and flossing, they can last a lifetime.
There are many other treatment directions they can be taken. A patient can get a fixed or removable bridge to replace missing teeth. The bridge is made of porcelain and can be permanently attached to adjacent teeth. Partial dentures can also be an option. They are removable appliance that are made to replace missing teeth. A removable partial denture is for the patient who wants to replace missing teeth, but cannot have a bridge for a variety of reasons. Sometimes there are not teeth available to serve as support for the bridge. Patients can remove and insert the partial denture without requiring professional help. A full denture replaces all teeth on either the upper or lower jaw – or on both. These are for people who have no teeth on the upper or lower part of their mouth. It is now becoming common to have lower dentures secured by dental implant roots that can secure the dentures and keep them from moving around in the mouth. If you have missing teeth, Dental Design will be able to present you with many treatment options. If you would like an appointment, simply call our office today.