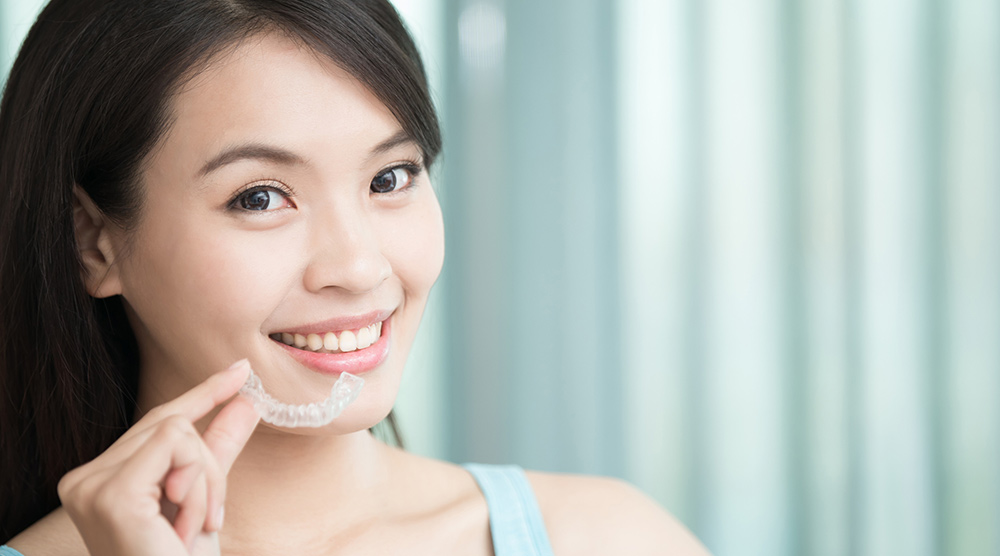 A significant part of coming-of-age for many people is going through the process of straightening their teeth. You would be hard-pressed to find a teen who isn't anxiously awaiting the day they can show off their gorgeous new smile. While the outcome is amazing, most people would agree that the traditional method of achieving straight teeth can be extremely unpleasant. Thankfully, there is an alternative that has proven itself to work just as well-if not better-than braces: Invisalign. Invisalign is an intelligent teeth aligning system that fits snugly over your teeth. It is completely clear, and in most situations, almost invisible and undetectable. Invisalign is quickly becoming a patient favorite due to its simplicity and the freedom that it allows. Below are five reasons why our patients love Invisalign here in Buffalo Grove to determine if it would be the right option for you!
1. Aesthetics
One of the biggest drawbacks of traditional braces is the "brace-face" stigma. The conception is that braces make an individual unattractive and "nerdy". For many people, the worst part of having braces is feeling uncomfortable with their smile. We believe in ensuring that our patients love their smile and feel proud to share it with the world, and that is why we are proud to offer Invisalign.
As it is a clear mouthpiece that fits perfectly over the teeth, Invisalign is practically invisible, allowing the patient to confidently show off their smile.
2. No Food Restrictions
Traditional braces come with a strict and detailed list of foods that are off limit to avoid breaking or damaging the brackets and bands. Missing out on some of your favorite foods and snacks can be tough. When considering the fact that most people wear their braces for at least a year or two, food restrictions can get old fairly quickly.
Invisalign easily comes out before each meal and goes back in the mouth when the individual is done eating, allowing for complete freedom when it comes to eating. No worries about broken brackets or bits of food caught in the braces!
3. Home Delivery – No More Life Interrupted
Going through the process of teeth alignment with braces usually means countless hours spent in the orthodontist's chair. Frequent orthodontic appointments take away from school, work, extracurricular activities, and more. With Invisalign, in-office visits are few and far between. As you progress through the different stages of your Invisalign alignment, the new aligners are delivered to your home.
4. Athletes & Musicians
Traditional braces can hold teens back from doing what they love, whether it be playing a sport or an instrument. Invisalign can be easily removed when playing any instrument. It actually protects the teeth. It is not only okay to leave Invisalign in the mouth while playing sports; it is encouraged!
5. Quick Results & Self Esteem Boost
Invisalign works in about half the time of traditional braces. It also provides patients with a life-changing self esteem boost. Having the ability to achieve your dream smile with an invisible alignment system that works alongside your lifestyle is incredible. Millions of people all around the world are deeply satisfied with their results.
What are you waiting for?
Click here for more information on Invisalign, and start your journey towards a perfect smile in our Buffalo Grove office!