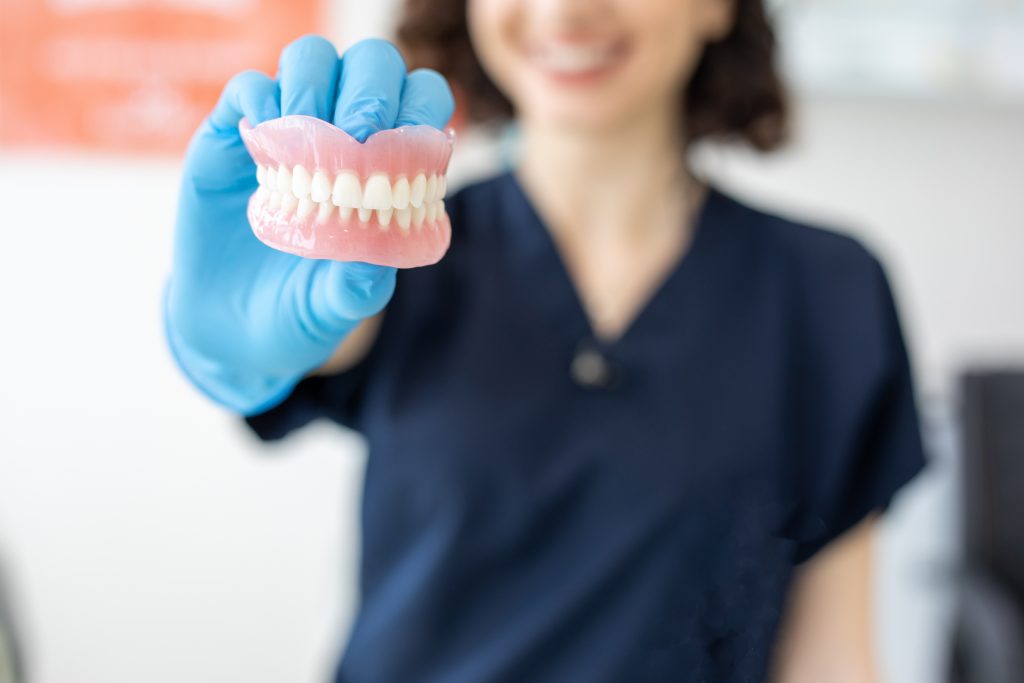 Dentures used to be a poor alternative to missing teeth. In recent years, dentists have been able to find comfortable and natural-looking dentures that easily fit in a smile. Our team at Dental Design provides one-on-one consultations that allow patients to find the perfect restoration for their situation. Dentures and partials help improve the appearance and function of smiles in the local Buffalo Groves area. How can modern dentures improve your smile? Continue reading on to learn more about dentures for your smile!
What are Dentures?
Dentures come in several different forms and are typically made out of acrylic material. Partials are used when there are individual missing teeth that need to be replaced. In the past, many people have found dentures to be uncomfortable against their gums and soft tissues. However, our Dental Design team has provided comfortable solutions for our patient's denture needs. Replacement teeth are attached to a soft base for a secure fit. Additionally, implant retained dentures are available for patients looking for a more permanent and lasting solution. An implant can be surgically placed for one or more partials.
Why You Should Choose Dentures
There are several different treatments that help to replace missing teeth. Some individuals may even opt against replacing a missing tooth. Our team recommends dentures for several reasons. Modern dentures look and feel natural. When properly fit, dentures act just as your natural teeth would. Additionally, they are a cheaper alternative to other options, such as dental implants. Dentures also help to fully restore function back to the smile by improving speaking and chewing abilities. This affordable treatment option is the perfect tooth replacement solution for individuals of any age!
Ensuring a Comfortable Fit
Allowing our patients to feel comfortable in their smiles is an essential part of our job. For this, we work directly with each patient to ensure they are receiving a treatment that will benefit their oral health while improving their self-confidence. Here are some ways our team ensures a comfortable fit:
We find the perfect denture solution for each unique patient's circumstances. Soft dentures may be a better alternative for some of our patients.
Finding the right size, shape, and shade of the replacement tooth is an important way to ensure each patient is pleased with the results of their dentures.
Prior to leaving our Buffalo Groves dental clinic, our team will make certain your new dentures or partials fit well and feel comfortable.
Keep in mind, it may take an adjustment period to get accustomed to your new smile. However, the end results will leave you feeling overjoyed; you will be ready to show off your smile in no time! Are you affected with missing teeth that damage your self-confidence? If so, our staff at Dental Design are eager to help you with a solution that will leave you feeling more comfortable and happy. Hence, we encourage you to contact our Illinois dental office today to book your consultation with us and see how you can transform your smile!