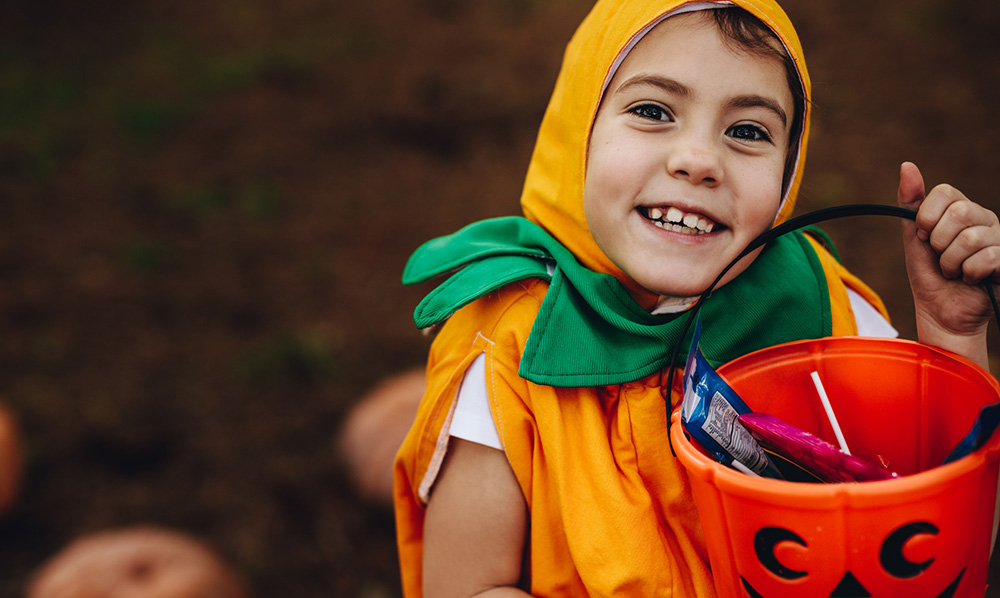 Halloween – parades, trick-or-treating, candy by the bucket full, school festivities full of iced cookies and apple cider to wash it all down. No wonder our children love Halloween so much! It is a special time to enjoy all the treats but how do we survive all the sugar without the worry of cavities? Below are 5 tips for a Cavity Free Halloween.
Limit the amount of candy your children consume. Setting a limit helps your children learn self-control and keeps decay at bay. It is best to make them aware of the rules and expectations around when and how much candy they can have. Self-control can be hard for children, keeping candy up away from their reach and out of their sight. Ration a piece or two to mealtimes rather than allowing your child to snack on their sweet treats throughout the day.
Choose wisely. Sticky, chewy candy can get caught in the grooves of tiny teeth. The longer the candy stays on the teeth, and in the mouth, the higher the risk for decay. The risk of cavities does not come from the amount of sugar in a food or candy, but the amount of time that food stays in your mouth. Over time, sugar breaks down into acid causing tooth decay.
Drink more water (alkaline water is best if you can find it). Water neutralizes the sugar and acidity from candy, foods, and drinks. Fluoridated water can also help prevent tooth decay and raise the pH of the mouth. When pH is above 6.8 it makes it very hard for bacteria to attack and start to form cavities. On the other hand, a pH under 6.0 leaves a person at a much higher risk of developing dental decay.
Chew Gum. Chewing sugarless gum, especially gum with Xylitol added into its ingredients, greatly reduces the risk of decay. Gum increases saliva production which helps to remove sugary candy particles from the teeth. You may even want to give out sugarless gum to your trick-or-treaters rather than candy.
Prevent cavities for a Cavity Free Halloween with routine dental cleanings and examinations at Dental Design. During your cleaning the hygienist can give you tips on how to care for your and your children's teeth, as well as nutritional counseling. The hygienist can apply topical fluoride varnish to strengthen enamel and prevent cavities.