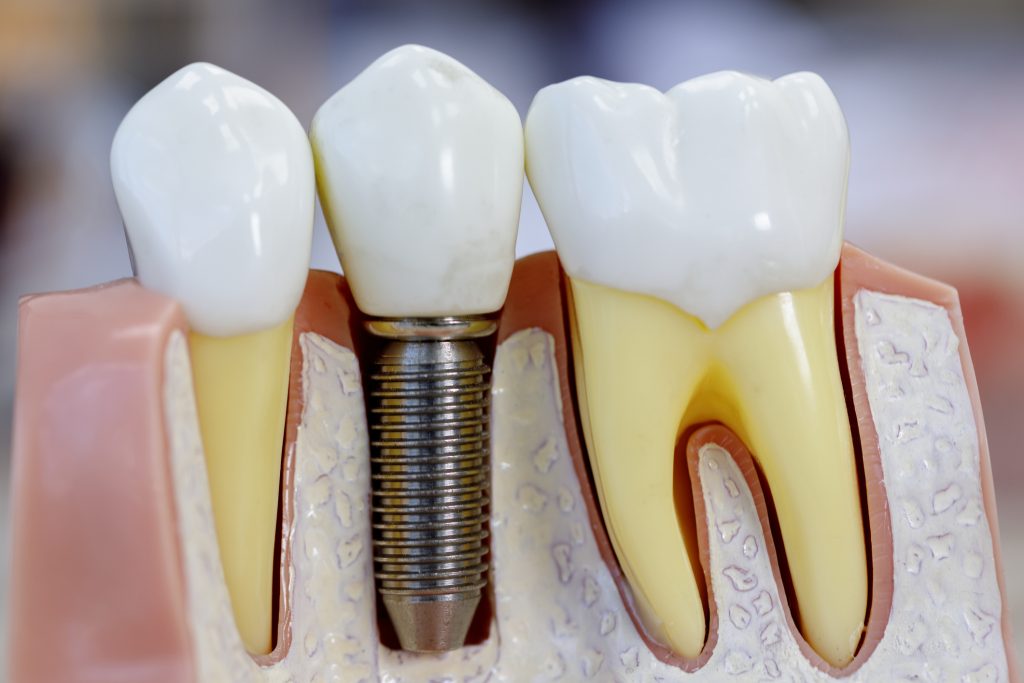 Even with the latest advances in dental care and its technologies, millions of people across the United States continue to suffer tooth loss. Whether it be from tooth decay, periodontal disease, or injury, dental implants offer a fixed solution to restoring your smile.
What is a Dental Implant?
Essentially, dental implants are artificial roots and teeth that are surgically placed into the upper or lower jawbone by a dentist or periodontist. A periodontist is a dentist who specializes in the prevention, diagnosis, and treatment of the supporting structures of teeth, and in the placement of dental implants.
How can a dental implant benefit me?
Stimulates the jawbone when you chew. Meaning it preserves the jawbone and keeps it healthy.
A dental implant stops the bone loss that occurs when a tooth is missing. It also prevents the surrounding teeth from shifting into the space.
There is no need to reduce the size of neighboring teeth, unlike a traditional bridge.
An implant is strong, comfortable, and secure. It looks and feels like your natural tooth 
What does getting a dental implant involve?
The process of getting a dental implant requires several stages involving the examination, surgery, time for healing, and multiple visits to ensure a successful procedure.
Finally, we at Dental Design are a practice devoted to restoring and enhancing the natural beauty of your smile.  Dr. Gelman and Dr. Shulkin are our doctors and they use conservative, state-of-the-art procedures. They are dental implant specialists who have gained extensive experience in dental implantology, and prosthodontics.
For additional information regarding dental implants, we encourage you to contact us with any questions or comments you may have. You can also schedule your dental implant procedure here.