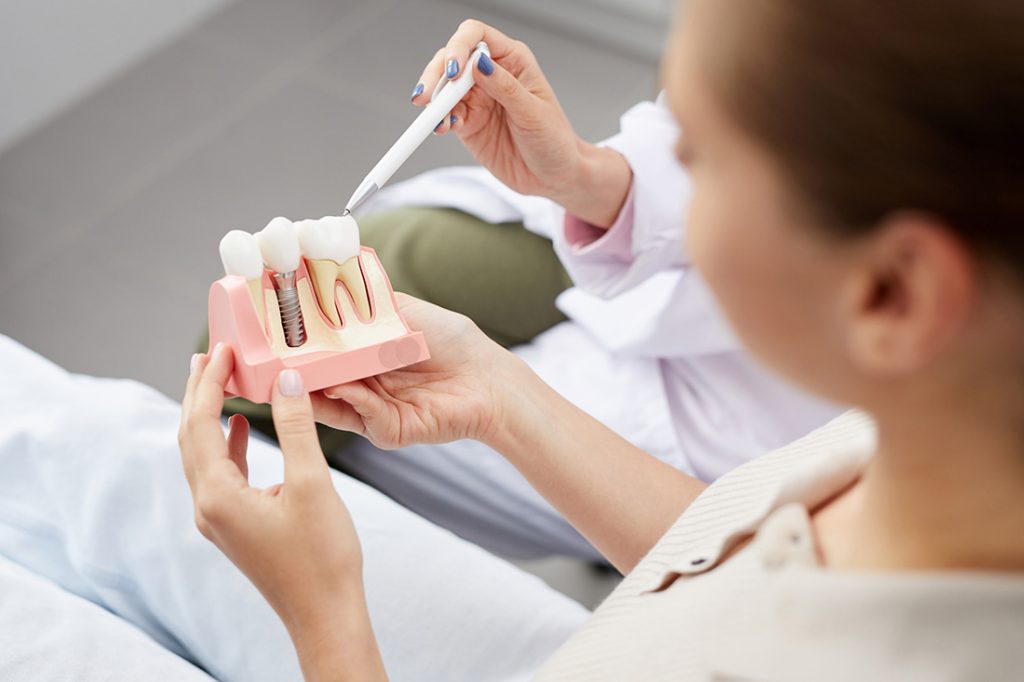 Dental implants are the ideal choice for single tooth replacement. They provide a strong support that integrates into the jawbone. The implant acts as an artificial tooth root, which can then support a crown to give you a fully functioning tooth once again. Three million people in the United States have at least one dental implant. This number continues to grow year after year but some patients still have a few questions around the implant process.
8 Common Questions About Dental Implants
1. What are dental implants?
A dental implant is a small titanium or ceramic threaded post which is surgically inserted into the jawbone. Once the post fully integrates to the bone, an abutment is connected to the implant. Some dentists use a healing abutment for a few months then fit a porcelain or zirconia crown to the final abutment. The whole implant tooth includes three parts: the implant, abutment and crown.
2. What are the advantages of dental implants?
The number one advantage of a dental implant is that it is permanent. When a tooth is lost due to severe decay, failed root canal, gum disease or traumatic accident implants can be the third set of teeth (baby teeth, adult teeth, and now implants). Dental implants last a lifetime. They also improve appearance and allow you to eat foods just like you are used to eating without worry. The best part is that an implant can never get decay.
3. What are the disadvantages of dental implants? 
With any minor surgical procedure, there is a risk of infection which could cause inflammation and pain. However, your dentist will discuss ways to prevent and manage complications. If you are a diabetic or smoker the risk of failure is increased. To get the best result, your dentist will discuss ways to stop smoking and will help you get your diabetes under control before any implants are placed. In some cases, the cost is increased if bone grafting material is needed.
4. What is the success rate of dental implants?
For a healthy person with good oral hygiene and no gum infection, the success rate of dental implants is very high. Follow-up research has shown dental implants are predictable and successful in 95% of healthy patients. However, depending on the health of the patient, success rates do vary. Smokers and diabetic patients do have a slightly lower success rate but your dentist will make sure those conditions are well managed and under control to give you the best outcome possible.
5. What is All-on-4?
An All-on-4 is a treatment procedure that involves replacement of all missing teeth in the jaw by using only four titanium implants. A custom denture is then made to fit into the implants. The implants give support and the denture provides a full set of functioning teeth. Patients have had great success with the All-on-4 process and testify to better chewing function and a wider selection of foods to choose from in their diets compared to traditional dentures without implants.
6. How long do dental implants last?
With good oral hygiene and regular dental visits, dental implants can last many years, potentially even a lifetime. The crown attached to the implant typically lasts 10 to 15 years before it may need replacement due to wear and tear.
7. Can anybody get dental implants?
Dental Implants are a great option for many patients, but not every patient is a good candidate. Good candidates generally have healthy gums and enough bone to hold the implant. Those with chronic illnesses like diabetes, heart disease, or those who smoke heavily might be at increased risk for complications.
8. What is the recovery process like?
Recovery after dental implant surgery varies among individuals but typically involves some swelling, discomfort, and bruising, which should subside within a week or two. Over-the-counter pain relievers can help manage discomfort. After the procedure, it's important to maintain good oral hygiene and avoid hard or chewy foods while the surgical site heals. The dental implant experts at Dental Design will give you specific instructions for your individual situation.