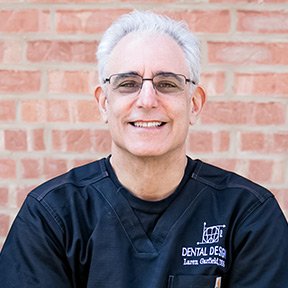 Laren J. Garfield, D.D.S. was born in Chicago, Illinois. He has been married for the past 30 years to Marlene and they have two children, Jennifer and Jared. In 1974, Dr. Garfield graduated from the University of Illinois Champaign with a Bachelor of Science in Biology. He then went on to the University of Illinois Dental School from 1975 to 1979.
His first practice was located in Chicago, where he was also on staff at Mount Sinai Hospital. Since 1991, Dr. Garfield has been located in his Buffalo Grove office on Arlington Heights Road.
Dedicating his professional life to dentistry, Dr. Garfield has participated in over 1,000 hours of continuing education courses to enhance his practice in the areas of crowns and bridges, veneers, implants and cosmetic dentistry. Dr. Garfield believes education is of paramount importance in order to provide the highest standard of dental care. Dr. Garfield is an active member of the American Dental Association, Academy of General Dentists, Chicago Dental Society, Illinois State Dental Society as well as the Seattle Study Club.

University of Illinois
"Visiting Dr. Garfield's office is always a very pleasant experience. Their commitment to punctuality, friendly reception, and excellent dental care will always make this practice the choice for my family."
"Great office, really attentive and sensitive to your needs whether they be financial or concerns about the procedures."
"Everyone was extremely accommodating and helpful. I broke a crown over the weekend and they were able to get me in within an hour of my calling the office."
"Wonderful practice. My family loves this dentist. Dr. Garfield has wonderful personality, great with little kids. Accommodate our busy schedules and same day appointments if needed."
"Dr. Garfield is a kind and gentle guy and was able to explain what course of treatment was appropriate for me and all of the options clearly."